The PLRAC is thrilled to announce the 41st Annual Open Sky Exhibition!

Inspired by the stunning skyscapes of Northeastern BC, the name Open Sky speaks to the openness of opportunity to regional artists at ALL career stages working in ALL mediums!

ALL submissions will be accepted and adjudicated by two arts professionals. We are excited to have Gerry Sheena, a carver and a member of the Interior Salish Nation, as well as Mary Anne Molcan, a Vancouver Island-based printmaker, serving as jurors this year!

The jurors will chose artwork for the following awards:Distinguished Representational Award ($600)Distinguished Conceptual Award ($600)Distinguished Three-Dimensional Award ($600)Distinguished Photography Award ($600)9 Chosen AwardsHonorable MentionsToni Onley Artists' Project ScholarshipThe exhibition will take place at the Chetwynd Rec Centre and is co-hosted by the Chetwynd Community Arts Council.IMPORTANT DATES– The exhibition is tentatively scheduled for June 9th to July 7th.

– Submissions will be accepted starting April 15th at https://opensky.peaceliardarts.org/ 

– The submission deadline is May 26th.What do I need to submit artwork?
You will need:

– 1 to 3 images of each artwork
– An artist statement for each work (optional)
– The title, medium, dimensions, and price (if for sale) for each work
– The category for each artwork (Representational, Three-Dimensional, Conceptual, or Photography)

Criteria:

All mediums, sizes, and forms of work will be accepted.

Youth artists may also submit artwork, however, their entries will not be juried.

Open to all artists residing in the Peace River Regional District and Northern Rockies Regional Municipality.

All artists who submit to Open Sky must stay at arm's length to the jurors.

Only original artwork is eligible. No copies from magazines, mechanical reproductions, kits, or commercial molds.

Works previously entered in the Regional Juried Art Exhibition, or Open Sky Exhibition are ineligible.

Work must have been completed after January 2022.

Limit of FOUR entries per artist.

Entry fees are $10 per entry.

Questions? Email ed@peaceliardarts.org
Meet the Jurors
 
Gerry Sheena is a member of the Interior Salish Nation and has been carving for over 30 years. His work can be found throughout galleries in BC as well as at the Museum of Anthropology at the University of British Columbia. His carving style is traditionally Salish, informed by modern painting techniques and innovative use of color and design. He has carved masks, bowls, rattles, plaques, and various sizes of totem poles.

From 1998-2002, Gerry mentored youth in the Collingwood community to create public art. In four years, they completed four carvings: Synala Totem Pole, The Multicultural Gateway, The Guardian of the Park, and the Renfrew Park Eagle. All the carvings were done in the public, with many people visiting the carving site, and can be found throughout the Renfrew Collingwood Community.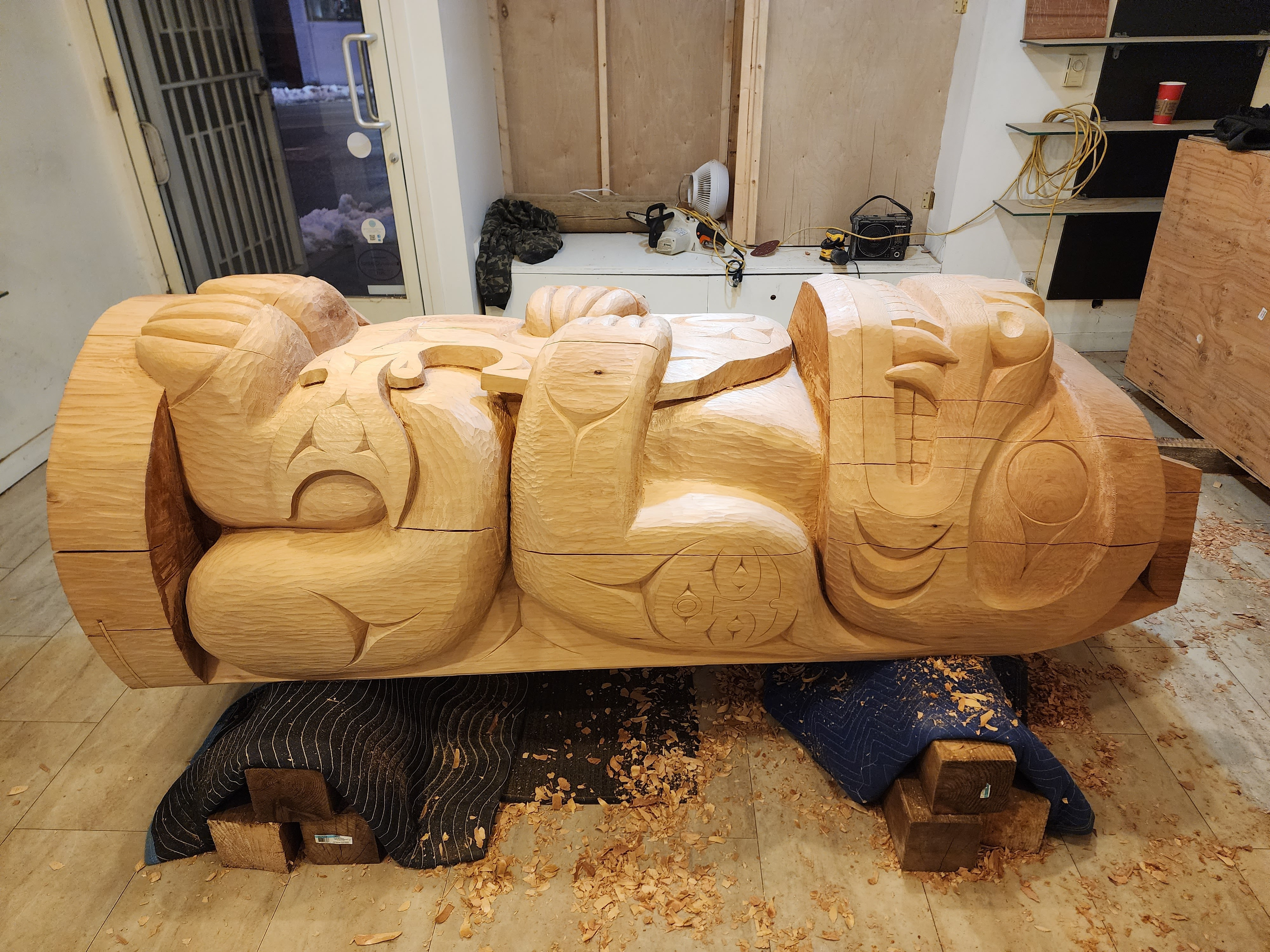 Gerry Sheena, totem pole in red cedar
Mary Anne Molcan is a Canadian visual artist who creates unique hand-carved lino block prints. She is very grateful to live, work and play on the unceded territory of the Snuneymuxw First Nation on Vancouver Island.

She holds a Bachelor of Arts with distinction from Vancouver Island University in Nanaimo, BC. Majoring in Visual Arts, printmaking became a strong focus as she developed her practice.

Minoring in psychology, she is intrigued by the affiliation we have with our unconscious and how that relates to the physical world. Hours of quiet reflection spent in the natural world inspire and inform her work. Having spent several years in vision care, her interest in perceptual aesthetics is an unwavering constant throughout her explorations.

Molcan is a member of People of Print and has exhibited in both Canada and the United States. Her work is held in public and private collections internationally, including the Vancouver Island University's digital intellectual and creative archive.

Recent awards include The Los Angeles Print Society, 2022 Print Day in May Award, The Center for Contemporary Printmaking, 2020 Print Day in May Award, the Visual Arts Award of Excellence, the EJ Hughes Memorial Award in Visual Arts, and The Ladysmith Arts Council Fine Art Show's Best Printmaking Award.

Visit https://maryannemolcan.com/ for more information
Mary Anne Molcan, Vivication, multi-cut lino reduction
Thanks to our sponsors: